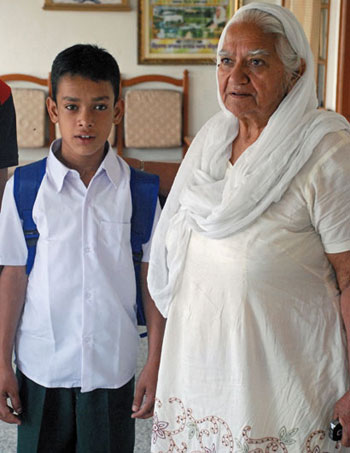 A touching life story
When you are a child and destiny takes away your last parent, this means loneliness and abandon, especially when no relatives are around and no one claims your protection. This is the story of Raju. His mother, helped by the zealous efforts from 11 year old Raju, reached the Doon hospital of Dehradun in an already very serious health condition arising out of a poorly managed operation of abdomen ulcer. Raju's efforts and dedication to save his mother caught the attention of local news media - Amar Ujala, which in turn appealed to everyone to support his efforts. One of the members from BSK Welfare Society, who was present in Dehradun that day, read the news and went to see mother and son in the hospital together with several volunteers of the society, whom he had already told the incident. Many people helped to support Raju financially, and we also did so by giving some money to the CMO – Chief Medical Officer (of Doon Hospital). But after learning that Raju was alone and seeing the condition of his mother, which was continuously deteriorating in lack of ultra-modern facilities in that hospital, we realized that helping him just financially was not enough. After speaking with the Hospital CMO about her chances of survival in Doon Hospital compared to PGI in Chandigarh, BSK Welfare Society decided to adopt the patient – Raju's mother – for her further treatment in PGI. A cardiac ambulance was arranged by the Hospital CMO around 10:00 p.m. and with Raju on her side, together with volunteers of BSK Welfare society, she was shifted to PGI Chandigarh. In PGI an arrangement to admit her in the emergency ward had already been made by one of the Members of BSK Welfare Society who happened to work at PGI. Once there, a special nurse was arranged for her to care of her personal hygiene and medical assistance, and she was provided with new clothes as well as new bed sheets.
Her condition improved but maybe it was time for her to start another journey. When it became clear she had to leave the body, her son was near her and she started to prepare him for her departure. When she felt her time drawing near, she called him and, putting her hand on his head, told him 'I am going, but you should become a good boy'. She left the body on 23 may and BSK Welfare Society adopted him. Since then, Raju has been staying at Kirpal Sagar and is admitted to the school. BSKWS is responsible for him now throughout his life.